BMW X3 Competition
The BMW X3 Competition takes the exhilarating driving experience of the X3 lineup to new heights, combining relentless power, precise handling, and bold aesthetics. As a high-performance variant, the X3 Competition showcases BMW's commitment to delivering thrilling performance without sacrificing luxury and comfort. Let's delve into the distinctive features that make the X3 Competition a standout performer: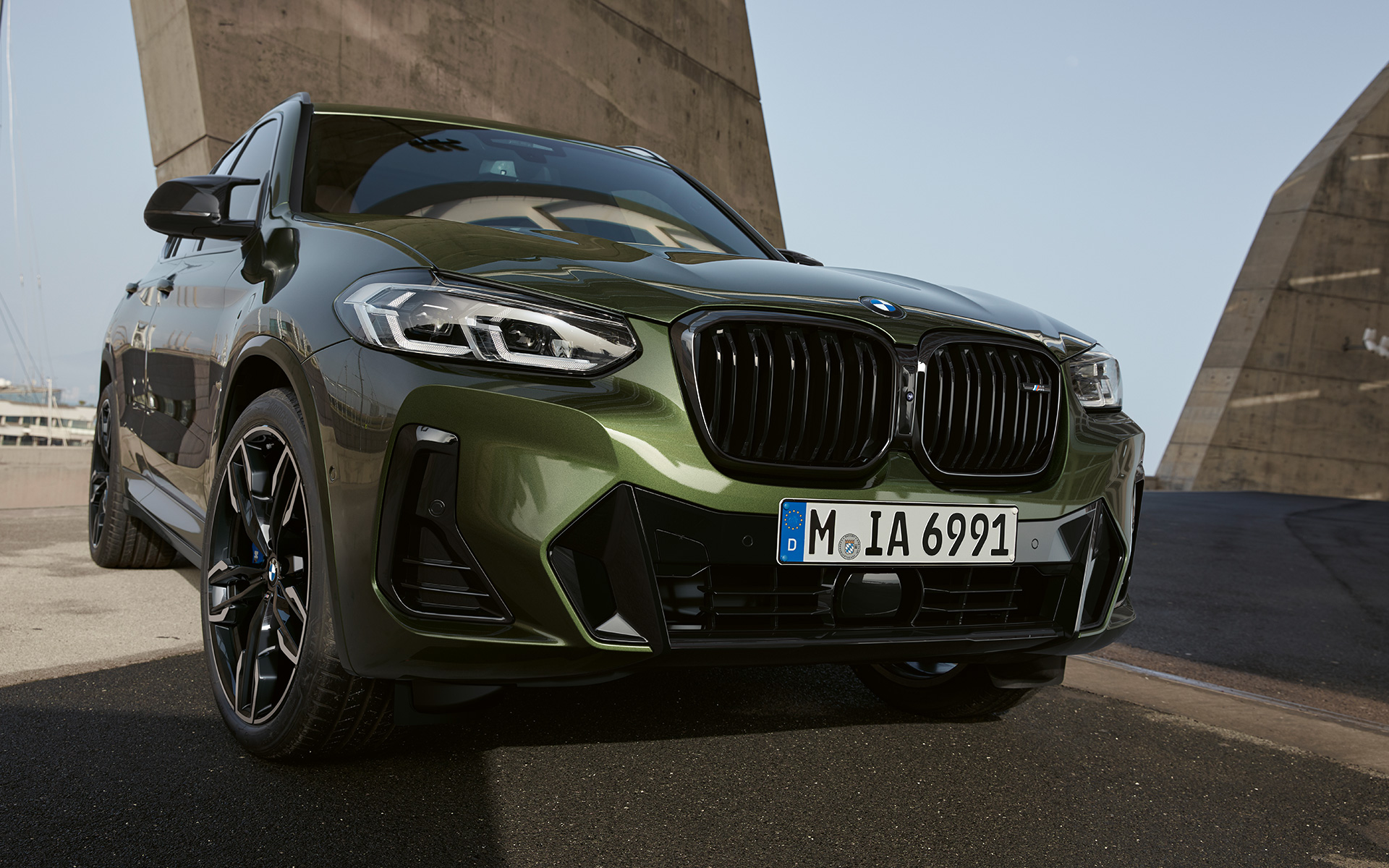 1. Engine Details and Performance: Under the hood of the X3 Competition lies a twin-turbocharged 3.0-liter inline-six engine, generating an impressive 503 horsepower and 442 lb-ft of torque. This immense power propels the X3 Competition from 0 to 60 mph in a blistering 4.0 seconds. The engine's exhilarating soundtrack, combined with the sport-tuned exhaust system, adds an extra level of excitement to the driving experience.
2. Precision Handling and Dynamics: The X3 Competition is designed to provide exceptional handling and dynamic capabilities. With its M-specific suspension tuning, M Sport differential, and upgraded brakes, this performance-oriented SUV delivers precise cornering, enhanced stability, and superb grip on any road surface. The adaptive M suspension allows drivers to fine-tune the ride characteristics, ensuring optimal performance and comfort.
3. Striking Exterior Design: The X3 Competition boasts a distinctively sporty and aggressive appearance. M-specific design elements, such as an enlarged front grille, aerodynamic body enhancements, and exclusive badging, create a commanding presence on the road. The attention to detail in the exterior design reflects the high-performance capabilities that lie beneath the surface.
4. Luxurious Interior with Sporty Accents: Step inside the X3 Competition, and you'll be greeted by a luxurious interior that harmonizes comfort with sporty elegance. The supportive sport seats, adorned with premium leather upholstery and distinctive M-specific accents, provide exceptional comfort and bolstering. The cabin boasts high-quality materials, refined finishes, and advanced features, creating an environment that reflects both luxury and performance.
5. Cutting-Edge Technology and Infotainment: The X3 Competition is equipped with BMW's latest technology, ensuring a seamless and connected driving experience. The iDrive infotainment system features a high-resolution touchscreen display, intuitive controls, and intelligent voice recognition. Additionally, features such as a head-up display, a Wi-Fi hotspot, and a premium audio system enhance convenience, entertainment, and driver assistance.
6. Safety and Driver-Assistance Features: BMW places a strong emphasis on safety, equipping the X3 Competition with advanced driver-assistance systems. These include adaptive cruise control, lane-keeping assist, automatic emergency braking, and blind-spot monitoring. These technologies enhance overall safety, providing peace of mind on every journey.
Source: Topspeed, hotcars, caranddrive
Boot Space
The BMW X3 is a luxury compact SUV that offers a spacious and practical interior with plenty of room for passengers and cargo. Here is a summary of the boot space of the BMW X3 according to the search results:
The 2023 BMW X3 has 550 litres of boot space with the rear seats in place and up to 1,600 litres if you fold the bench flat

The X3 offers more cargo space than most of its luxury compact SUV rivals, with 28.7 cubic feet of room behind the second row and 62.7 cubic feet with the rear seats folded down

The plug-in hybrid model has a boot space of 450 liters

The BMW X3 can accommodate eight carry-on suitcases

The capacity of the BMW X3 boot space varies depending on the position of the parcel shelf and the use of the car roof, ranging from 340 litres up to 1188 litres
Overall, the BMW X3 offers a spacious and practical boot space that should meet the needs of most families
Source: Howmanybagsfit, whatcar, parkers
BMW X3 Towing Capacity
The BMW X3 has different towing capacities depending on the configuration and options. Here are the towing capacities for the 2022 BMW X3:
With an optional trailer hitch, every BMW X3 configuration can tow the maximum weight of 4,400 pounds,

The X3M is offered with the folding rear tow hitch in UK/Europe and is rated for 2500kg (about 5,512 pounds)
Whether you need to transport a significant amount of cargo or tow items behind your vehicle, the BMW X3 M Competition offers the necessary space and capability to meet your needs. Its versatile boot space and respectable towing capacity make it a practical choice for a wide range of activities, whether it's daily errands or weekend adventures.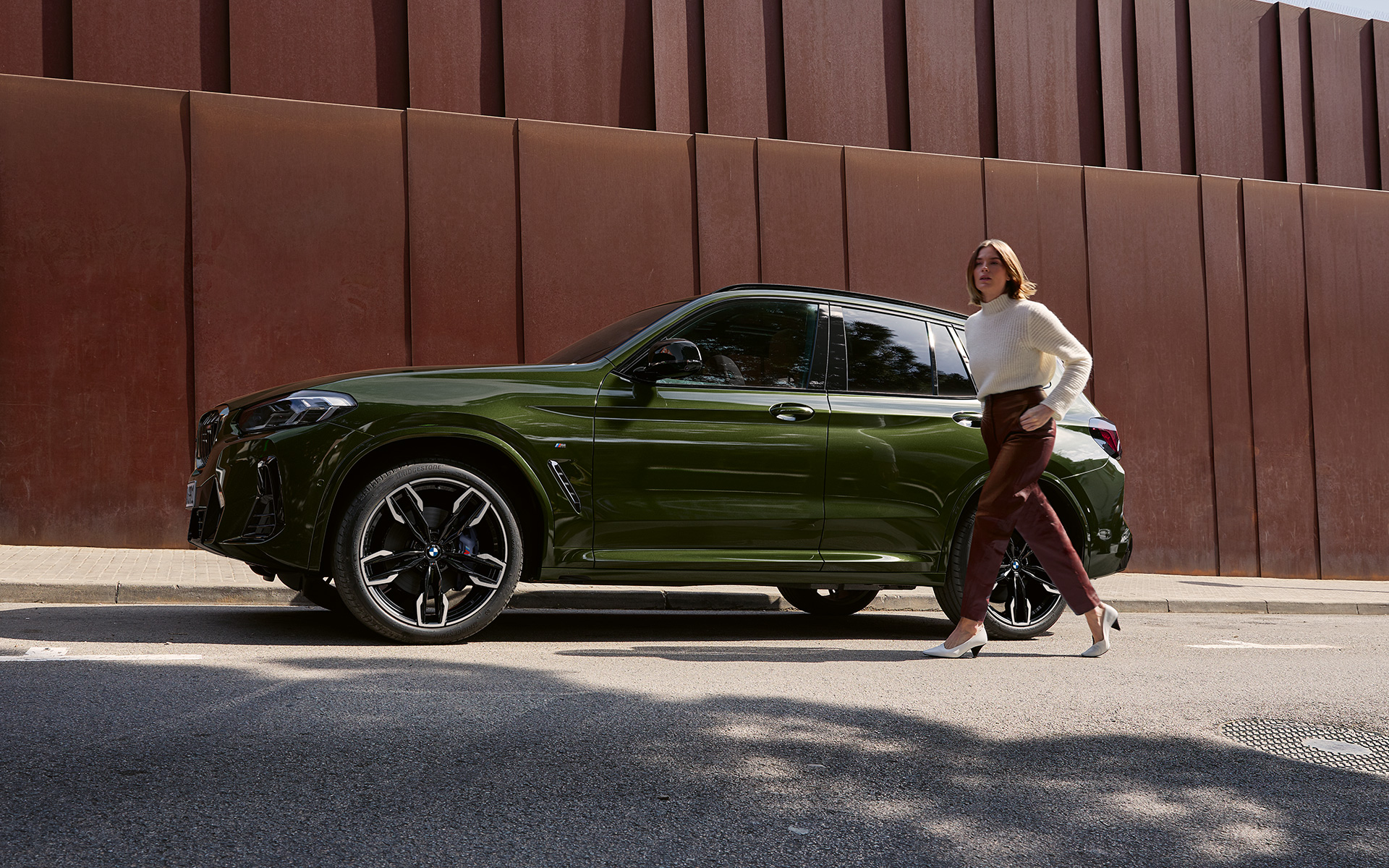 Here are the highlighted features of the BMW X3 M Competition: (Source- BMW)
Impressive 21-inch M alloy wheels for a stylish and sporty appearance.
Tri-zone auto climate control, allowing personalized temperature settings for the driver and passengers.
An alarm system for added security and peace of mind.
Convenient automatic tailgate for easy access to the cargo area.
A 12.3-inch BMW Live Cockpit Professional display, providing a high-resolution digital interface for information and entertainment.
Comfort Access, allowing keyless entry and starting of the vehicle.
Connected Package Professional, providing advanced connectivity features and services.
DAB digital radio for enhanced audio entertainment options.
Electric seat adjustment for customizable seating positions and comfort.
Extended Leather Merino upholstery for a luxurious and refined interior feel.
A high-quality harman/kardon Surround Sound system for an immersive audio experience.
Head-up display, projecting essential information onto the windshield for easy viewing while driving.
An instrument panel finished in Sensatec, a synthetic leather-like material for a premium touch.
Carbon-fiber interior trim, adding a sporty and high-performance aesthetic.
Lumbar support for the driver, ensuring optimal comfort during long drives.
M Sport differential for improved handling and cornering capabilities.
M xDrive, BMW's intelligent all-wheel-drive system for enhanced traction and performance.
M Adaptive Suspension, offering adjustable suspension settings for a dynamic driving experience.
Metallic paint options for a sleek and eye-catching exterior appearance.
Mirror package, including features like automatic dimming and folding mirrors.
Navigation system for easy and accurate route guidance.
Parking Assistant Plus, providing assistance during parking maneuvers with multiple sensors and cameras.
A Panorama Glass Sunroof, offering a wide and open view of the sky.
Reversing camera for added convenience and safety when maneuvering in reverse.
High gloss black roof rails, adding a sporty and stylish accent to the exterior.
Seat heating for the front row, ensuring warmth and comfort during colder weather.
A sport leather steering wheel for a comfortable and ergonomic grip.
Speed Limit Info, displaying speed limits and relevant information on the dashboard.
Wireless Apple CarPlay and Android Auto integration, allowing seamless connectivity with compatible smartphones for hands-free calls, music streaming, and app usage.
Source: Topspeed, hotcars, caranddrive
Pros and Cons
Pros:
Impressive engine power and exhilarating acceleration.
Precision handling and dynamic capabilities for an engaging driving experience.
Striking exterior design that sets it apart from the standard X3 models.
Luxurious interior with sporty accents and high-quality materials.
Cutting-edge technology and infotainment features for seamless connectivity and entertainment.
Comprehensive safety features and driver-assistance systems for enhanced peace of mind.
Cons:
Firmer ride quality compared to the standard X3 models due to sport-tuned suspension.
Higher price point compared to the base X3 models.
Source: Carbuyingstrategy, topspeed
READ blog BMW X3 M: Where Performance and Luxury Converge
Frequently Asked Questions (FAQ) – BMW X3 Competition
Q: What sets the BMW X3 Competition apart from the standard X3 models? A: The BMW X3 Competition stands out with its enhanced performance capabilities, including a more powerful engine, sport-tuned suspension, upgraded brakes, and distinctive design elements. It delivers a more engaging driving experience with precise handling, faster acceleration, and aggressive styling that sets it apart from the standard X3 models.
Q: How does the performance of the BMW X3 Competition compare to the X3 M40i? A: The BMW X3 Competition takes performance to the next level compared to the X3 M40i. It features a more powerful engine, generating 503 horsepower compared to the X3 M40i's 382 horsepower. The X3 Competition also offers enhanced suspension tuning, upgraded brakes, and unique styling cues that further enhance its high-performance nature.
Q: Can the BMW X3 Competition be used as a daily driver? A: Yes, the BMW X3 Competition can be used as a daily driver. Despite its high-performance capabilities, it still offers the comfort, practicality, and versatility needed for daily commuting and day-to-day activities. The X3 Competition strikes a balance between performance and usability, making it suitable for both thrilling drives and everyday practicality.
Q: How does the BMW X3 Competition handle in terms of agility and cornering? A: The BMW X3 Competition is engineered to provide exceptional agility and cornering capabilities. With its M-specific suspension, improved chassis dynamics, and advanced traction control systems, the X3 Competition offers precise handling and excellent grip on various road surfaces. It confidently tackles corners and offers a dynamic driving experience that enthusiasts will appreciate.
Q: Does the BMW X3 Competition offer advanced safety features? A: Yes, the BMW X3 Competition is equipped with a range of advanced safety features. These include adaptive cruise control, lane-keeping assist, automatic emergency braking, blind-spot monitoring, and a comprehensive airbag system. These technologies enhance safety and assist drivers in avoiding potential hazards on the road.
Q: Can the BMW X3 Competition accommodate passengers and cargo comfortably? A: Yes, the BMW X3 Competition provides ample space for both passengers and cargo. With its spacious and well-appointed interior, there is sufficient legroom and headroom for occupants. The rear seats can be folded down to create additional cargo space, making it versatile enough to handle everyday errands and longer trips.
Q: Does the BMW X3 Competition offer advanced infotainment and connectivity features? A: Absolutely! The BMW X3 Competition features advanced infotainment and connectivity options. It includes the iDrive infotainment system with a high-resolution touchscreen display, Bluetooth connectivity, smartphone integration, and voice control. Additionally, features like a head-up display, a Wi-Fi hotspot, and a premium audio system enhance the overall driving experience.
Q: How does the BMW X3 Competition's fuel efficiency compare to other models in the X3 lineup? A: The BMW X3 Competition prioritizes performance, and as a result, its fuel efficiency may be slightly lower compared to other X3 models. However, advancements in engine technology and efficient power management help optimize fuel consumption without compromising on power and performance.
These frequently asked questions aim to provide valuable insights into the BMW X3 Competition, addressing common queries about its performance, safety, usability, and overall driving experience. The X3 Competition offers exceptional performance, distinctive styling, and luxurious features, making it a compelling choice for those seeking an exhilarating and high-performance SUV.
The BMW X3 Competition embodies the spirit of performance and luxury, combining raw power, precision handling, and striking aesthetics. With its aggressive design, powerful engine, luxurious interior, and cutting-edge technology, the X3 Competition offers a truly immersive and thrilling driving experience. Whether on the open road or conquering challenging corners, this high-performance SUV is sure to leave a lasting impression.