Gadgets for Men – Introduction
In today's fast-paced world, technology has become an integral part of our lives. In this article, we will explore a diverse range of gadgets for men and review selected few. Whether you're a tech enthusiast, a fitness fanatic, or a style-conscious gentleman, these innovative gadgets will cater to your needs and elevate your daily life. From practical tools to cutting-edge devices, gadgets have transformed the way we work, communicate, and entertain ourselves. Lets dive in:
Wireless Earbuds
Wireless earbuds have become a must-have gadget for men on the go. Whether its Sony Sony WF-1000XM4 or the Bang & Olufsen Beoplay E8X provide seamless connectivity, audio quality, noise cancellation and convenience. Both the Bang & Olufsen Beoplay E8X and the Sony WF-1000XM4 are exceptional true wireless earbuds that deliver superb audio quality and advanced features. The Beoplay E8X appeals with its elegant design, comfort, and balanced sound, while the Sony WF-1000XM4 impresses with its powerful ANC, long battery life, and extensive smart features. Your choice ultimately depends on your priorities, whether it's design aesthetics, noise cancellation capability, or specific features. Whichever you choose, both earbuds will elevate your audio experience and provide a wireless listening journey that matches your discerning taste. Read detailed comparison here
Smartwatches
Smartwatches have revolutionized the way we track our fitness, stay connected, and manage our daily routines. The Apple Watch stands out with its sleek design, extensive fitness tracking capabilities, and seamless integration with other Apple devices. On the other hand, the Samsung Galaxy Watch offers a wide range of features, including a rotating bezel for navigation and compatibility with both Android and iOS devices. For the adventurous man, the Garmin Fenix series is renowned for its ruggedness, long battery life, and comprehensive tracking options for various outdoor activities. Read detailed Comparison of smart watches
Multi-Tool Kits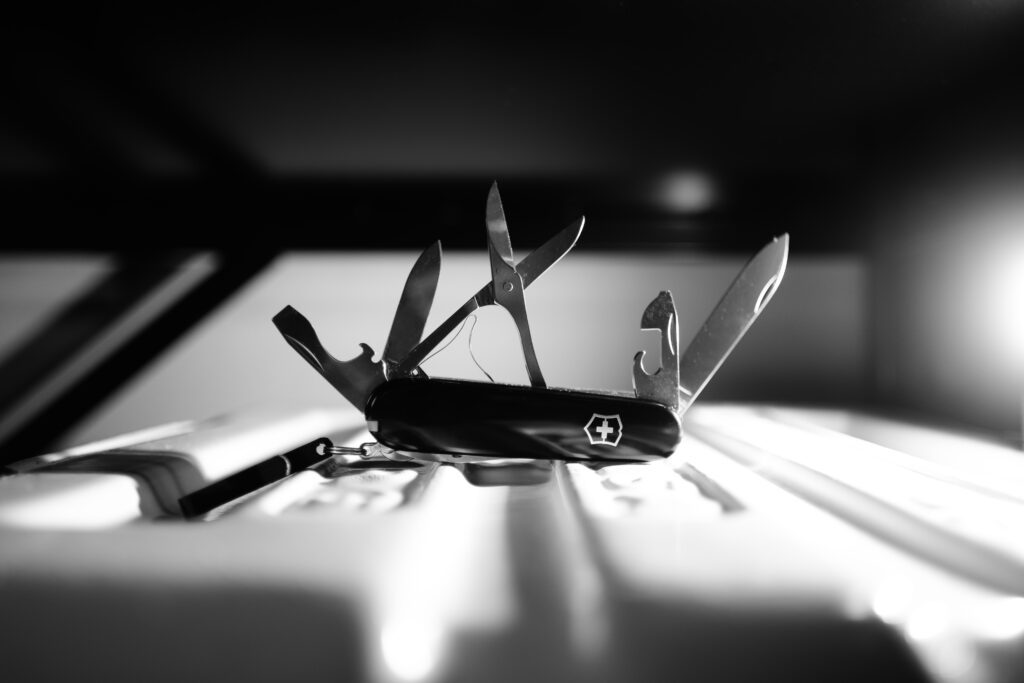 For the handyman or outdoor enthusiast, multi-tool kits are a must-have. Leatherman is renowned for its high-quality multi-tools, such as the Leatherman Wave+, which features 18 tools in one compact device, including pliers, knives, screwdrivers, and more. Victorinox Swiss Army knives are a classic choice, combining elegance and functionality with various tools for everyday tasks and outdoor adventures.
Design and Build Quality:
Leatherman Wave+: The Wave+ features a robust and ergonomic design with stainless steel construction. It incorporates a butterfly-style opening mechanism, allowing easy access to the tools, and includes a replaceable pocket clip for convenient carry.
Victorinox Swiss Army knives: Swiss Army knives have a classic, iconic design with a slim and compact form factor. They are typically crafted with stainless steel blades and durable synthetic handle scales. The knives utilize a folding design with multiple tools nested within the handle.
Tool Selection and Functionality:
Leatherman Wave+: The Wave+ offers a wide range of tools, including pliers, knives, screwdrivers, scissors, saw, file, and more. It features locking mechanisms for enhanced safety and usability, ensuring that the tools stay in place during use.
Victorinox Swiss Army knives: Swiss Army knives traditionally feature a combination of tools like blades, screwdrivers, can openers, bottle openers, scissors, and more. They focus on essential tools for everyday tasks, making them versatile tools for various situations.
Ease of Use and Accessibility:
Leatherman Wave+: The Wave+ incorporates one-hand opening blades and accessible tools from the exterior of the multi-tool. The locking mechanism adds stability and security when using the tools.
Victorinox Swiss Army knives: Swiss Army knives are designed for ease of use with a compact and intuitive folding mechanism. They often have nail nicks or thumb holes for blade deployment, and individual tools can be accessed by unfolding the appropriate sections of the knife.
Specialized Features:
Leatherman Wave+: The Wave+ includes replaceable wire cutters for added convenience, allowing you to swap out worn-out blades. It also has optional accessory bit kits available, providing additional tool options.
Victorinox Swiss Army knives: Swiss Army knives often come with unique features like corkscrews, toothpicks, tweezers, and specialized blades for specific purposes. Some models may include features like magnifying lenses, ballpoint pens, or digital watches.
Application and Use Cases:
Leatherman Wave+: The Wave+ is favored by outdoor enthusiasts, DIYers, and professionals who require a versatile toolset for various tasks, including camping, hiking, repairs, and general everyday use.
Victorinox Swiss Army knives: Swiss Army knives are popular among individuals seeking a compact tool for everyday carry, camping, hiking, and small-scale tasks like opening packages, cutting cords, or handling simple repairs.
Both the Leatherman Wave+ and Victorinox Swiss Army knives have their strengths, and the choice ultimately depends on personal preferences, specific needs, and the intended use. Consider the range of tools, design, and features to find the multi-tool that best suits your requirements.
Smart Home Devices
Transform your living space into a futuristic smart home with gadgets like voice-controlled speakers, smart lighting systems, and smart thermostats. The Amazon Echo is a popular choice, featuring the voice assistant Alexa, enabling you to control devices, play music, and access information with just your voice. Philips Hue offers a wide range of smart lighting options, allowing you to create personalized lighting scenes and control them remotely. The Nest Learning Thermostat stands out with its energy-saving features, learning capabilities, and intuitive app control. Read more about 10 must have smart home devices
Virtual Reality (VR) Headsets
Immerse yourself in virtual worlds with VR headsets like the Oculus Quest 2. It offers an all-in-one wireless experience, eliminating the need for additional equipment or cables. With its impressive graphics, intuitive controls, and a vast library of games and experiences, the Oculus Quest 2 provides an immersive virtual reality experience accessible to all.
Design and Display: The Oculus Quest 2 features a sleek and compact design with a lightweight build, making it comfortable to wear for extended periods. It is equipped with a high-resolution fast-switch LCD display with a resolution of 1832 x 1920 pixels per eye, providing sharp visuals and reduced screen-door effect. The adjustable head strap ensures a secure and comfortable fit for different head sizes.
Wireless Freedom and Standalone Capability: One of the standout features of the Oculus Quest 2 is its standalone capability. It does not require a PC or console to operate, eliminating the need for cables or external devices. The headset runs on the Oculus platform, offering a self-contained VR experience. This allows users to enjoy VR gaming and apps anywhere without the restriction of being tethered to a computer or gaming console.
Powerful Performance and Processing: The Quest 2 is powered by a custom Qualcomm Snapdragon XR2 processor, which provides a significant performance boost compared to its predecessor. This enables more demanding and visually impressive VR experiences with smooth gameplay and graphics. The headset also features 6GB of RAM, ensuring efficient multitasking and smooth operation.
VR Gaming Library and Content: The Oculus Quest 2 offers access to a vast library of VR games and experiences through the Oculus Store. The store includes a wide range of genres, from action-packed games and immersive adventures to creative experiences and social apps. Some popular titles include Beat Saber, Superhot VR, The Walking Dead: Saints & Sinners, and Star Wars: Tales from the Galaxy's Edge, among many others.
Oculus Link and PC Connectivity: While the Oculus Quest 2 is primarily a standalone VR headset, it also supports Oculus Link, a feature that allows users to connect the headset to a compatible gaming PC using a USB-C cable. This enables access to a broader range of VR experiences and high-end PC games that are not available on the standalone platform.
Social and Multiplayer Features: The Oculus Quest 2 offers social features that allow users to connect with friends and other VR enthusiasts. This includes multiplayer gaming, where users can join and interact with others in virtual environments. The headset also integrates with platforms like Facebook Horizon, enabling users to create and explore shared virtual spaces.
Hand Tracking and Controllers: The Quest 2 supports hand tracking, which allows users to interact with virtual environments using their hands without the need for controllers. This adds a level of immersion and natural interaction in certain applications and experiences. Additionally, the headset comes with Oculus Touch controllers that provide precise and intuitive control for gaming and other VR interactions.
High-End Headphones
Indulge in superior audio quality with high-end headphones like the Sony WH-1000XM4. These headphones deliver exceptional sound reproduction, powerful noise cancellation, and a comfortable fit, making them perfect for long listening sessions and immersive audio experiences. The Sennheiser HD 660 S, on the other hand, is renowned for its audiophile-grade sound and detailed audio reproduction, making it a top choice for music enthusiasts.
Sound Quality
Sony WH-1000XM4: The WH-1000XM4 headphones deliver excellent sound quality with a wide soundstage, powerful bass response, and clear and detailed audio reproduction. They feature Sony's proprietary 40mm drivers and support various audio codecs, providing a versatile and immersive listening experience.
Sennheiser HD 660 S: The HD 660 S headphones are renowned for their audiophile-grade sound quality. They offer a balanced and accurate sound signature with detailed instrument separation, natural tonality, and a focus on midrange and treble reproduction. They are designed to deliver a transparent and authentic listening experience.
Noise Cancellation:
Sony WH-1000XM4: Sony's active noise cancellation (ANC) technology is highly regarded, and the WH-1000XM4 excels in this department. The ANC effectively blocks out ambient noise, allowing you to enjoy your music without distractions. The headphones also offer customizable ambient sound modes, allowing you to control the level of external noise you want to hear.
Sennheiser HD 660 S: The HD 660 S does not have active noise cancellation. Instead, its open-back design naturally allows some sound leakage and does not isolate as effectively as closed-back headphones. They are more suitable for quiet environments where you can appreciate their sound quality without the need for noise isolation.
Comfort and Fit
Sony WH-1000XM4: The WH-1000XM4 headphones are designed for comfort with soft ear cushions and a lightweight build. The adjustable headband and swiveling ear cups provide a secure and comfortable fit for long listening sessions.
Sennheiser HD 660 S: The HD 660 S headphones have a circumaural design, with large ear cups that fully enclose the ears. They offer a comfortable fit and distribute the weight evenly. However, as they are over-ear headphones, they may cause more heat buildup during extended use.
Portability and Connectivity
Sony WH-1000XM4: The WH-1000XM4 headphones are foldable and come with a compact carrying case, making them highly portable. They support Bluetooth connectivity and have built-in NFC for quick pairing with compatible devices. The headphones also offer multipoint Bluetooth, allowing you to connect to multiple devices simultaneously.
Sennheiser HD 660 S: The HD 660 S headphones are not as portable as they lack foldability and come with a bulkier storage case. They feature a detachable cable with a 6.35mm jack, suitable for home audio setups or professional use. They do not support wireless or Bluetooth connectivity.
Price
Sony WH-1000XM4: The WH-1000XM4 headphones are typically priced in the high-end range, offering a combination of premium sound quality and advanced features.
Sennheiser HD 660 S: The HD 660 S headphones are also priced in the high-end range, targeting audiophiles and those seeking accurate and transparent audio reproduction.
In conclusion, the Sony WH-1000XM4 and Sennheiser HD 660 S cater to different needs and preferences. The WH-1000XM4 excels in active noise cancellation, wireless connectivity, and versatility, making them ideal for on-the-go use and a wider range of environments. The HD 660 S, on the other hand, focuses on audiophile-grade sound quality and transparency, catering to those who prioritize accurate audio reproduction and a more stationary listening experience.
Smart Fitness Gadgets
Achieve your health and fitness goals with smart gadgets designed to track your progress and provide personalized insights. The Fitbit Charge 4 offers comprehensive fitness tracking, including heart rate monitoring, sleep tracking, and built-in GPS, motivating you to stay active and maintain a healthy lifestyle. The Garmin Forerunner series is a favorite among runners, providing advanced running metrics, training plans, and detailed performance analysis.
Design and Display
Fitbit Charge 4: The Charge 4 features a slim and lightweight design, with a rectangular touchscreen display that provides easy navigation and access to information. It has a sleek and minimalistic look, making it suitable for everyday wear.
Garmin Forerunner: The Forerunner series has a more sporty and rugged design, with a round or square dial and physical buttons for navigation. The display is designed for outdoor visibility, providing clear readings even in bright sunlight. It may be bulkier compared to the Fitbit Charge 4, which could affect comfort for some users.
Activity Tracking Features
Fitbit Charge 4: The Charge 4 offers comprehensive activity tracking features, including step counting, distance traveled, calories burned, floors climbed, and sleep tracking. It also has built-in GPS, allowing you to track outdoor activities like running and cycling without the need for a connected smartphone. Additionally, it provides continuous heart rate monitoring and includes automatic exercise recognition for various activities.
Garmin Forerunner: The Forerunner series, designed primarily for runners and athletes, offers advanced activity tracking features. It includes accurate GPS tracking, heart rate monitoring, and tracking for various sports and workouts. The Forerunner models also provide more detailed metrics and performance analysis, such as cadence, VO2 max estimation, and training status.
Smart Features and Connectivity
Fitbit Charge 4: The Charge 4 includes smart features like smartphone notifications, call and text alerts, and app integration. It supports contactless payments through Fitbit Pay (in select models) and has music control functionality. However, the smart features on Fitbit Charge 4 are more limited compared to full-fledged smartwatches.
Garmin Forerunner: The Forerunner models focus more on fitness tracking and sports performance. While they offer some smart features like smartphone notifications, calendar alerts, and weather updates, their primary focus is on providing in-depth training metrics and performance analysis.
Battery Life
Fitbit Charge 4: Fitbit claims that the Charge 4 can last up to 7 days on a single charge with regular use. However, continuous GPS usage significantly reduces the battery life.
Garmin Forerunner: The battery life of Forerunner models varies depending on the specific model and usage. Generally, they offer a battery life ranging from a few days to several weeks, depending on activity tracking and GPS usage.
Price
Fitbit Charge 4: The Charge 4 is typically priced as a mid-range fitness tracker, making it more affordable compared to higher-end models or smartwatches.
Garmin Forerunner: The Forerunner series includes a range of models with varying features and prices, from mid-range to higher-end options. Models with more advanced features and performance tracking capabilities tend to have higher price points.
In summary, the Fitbit Charge 4 is a versatile fitness tracker suitable for general activity tracking and everyday use. It offers built-in GPS, sleep tracking, and a range of features at a more affordable price point. On the other hand, the Garmin Forerunner series is designed for athletes and runners who require more advanced training metrics, performance analysis, and sport-specific features. The Forerunner models have a sportier design and cater to users who prioritize in-depth performance tracking and analysis over smart features.
Electric Shavers and Grooming Tools
Effortlessly maintain your grooming routine with electric shavers and grooming gadgets. The Braun Series 9 electric shaver offers exceptional shaving performance, adapting to facial contours and providing a close and comfortable shave. Philips Norelco OneBlade combines the benefits of a trimmer and shaver, allowing you to trim, edge, and shave with precision and convenience.
Shaving Performance
Braun Series 9: The Series 9 is a high-end electric foil shaver designed for a close and smooth shave. It features a powerful motor and uses a 4-blade cutting system with specialized shaving elements that capture more hair in each stroke. The flexible shaving head adapts to facial contours for better comfort and efficiency, making it ideal for those who desire a clean and precise shave.
Philips Norelco OneBlade: The OneBlade is a hybrid grooming tool that combines a trimmer and shaver. It features a unique blade design that allows for efficient trimming of longer hair and provides a comfortable shave. While it may not offer the same closeness as a traditional shaver, the OneBlade is versatile and effective for maintaining stubble, shaping beards, and managing facial hair.
Versatility
Braun Series 9: The Series 9 is primarily designed for shaving facial hair, providing a close shave with its foil cutting system. It offers different models with additional features like wet/dry functionality and cleaning stations, providing a range of options to suit individual preferences.
Philips Norelco OneBlade: The OneBlade is highly versatile, capable of trimming, edging, and shaving different lengths of facial hair. It comes with various blade attachments to customize the trimming length, allowing you to maintain stubble, trim beards, and even groom body hair. The OneBlade is suitable for those who prefer flexibility in their grooming routine.
Blade Lifespan and Maintenance
Braun Series 9: The Series 9 uses durable and sharp blades that maintain their cutting performance for an extended period. Braun recommends replacing the shaving head every 18 months to ensure optimal performance. Cleaning stations are available with some Series 9 models, providing an automated and thorough cleaning process.
Philips Norelco OneBlade: The OneBlade's blade lifespan may vary depending on usage. Philips recommends replacing the blade every 4 months for optimal performance. Cleaning the blade and handle after each use is recommended to maintain hygiene and longevity.
Wet/Dry Functionality
Braun Series 9: Many Series 9 models offer wet/dry functionality, allowing you to use the shaver with shaving foam, gel, or in the shower. This feature enhances comfort and convenience, especially for individuals with sensitive skin.
Philips Norelco OneBlade: The OneBlade is designed for both wet and dry use, enabling you to shave with or without water, and even with shaving products if desired. This flexibility suits different preferences and allows for personalized grooming routines.
Price:
Braun Series 9: The Series 9 is positioned as a high-end electric shaver and generally comes with a higher price tag due to its advanced features, shaving performance, and build quality.
Philips Norelco OneBlade: The OneBlade is priced more affordably compared to high-end shavers, making it a budget-friendly option for those seeking versatility and ease of use.
In summary, the Braun Series 9 is a premium electric shaver designed for a close and smooth shave, while the Philips Norelco OneBlade is a versatile grooming tool that combines trimming and shaving capabilities. Consider your specific grooming needs, preferences, and budget to determine which option is best suited for you
Conclusion: From wearable tech to smart home devices and grooming tools, the world of gadgets offers a plethora of options for men seeking innovation and convenience. Each gadget discussed in this article brings its unique features and advantages. Embrace the power of technology and discover the perfect gadgets that cater to your unique interests and needs, making your life more enjoyable, efficient, and connected. Elevate your everyday life with these innovative gadgets, designed to enhance your productivity, entertainment, and style.